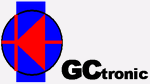 Pubblications
---
GCtronic's know-how also relies on experience gained through several years of research. These publications give an overview of the academic background. The copyright is with the respective publishers.
Jurnal
Caprari, G., Colot, A., Siegwart, R., Halloy, J. and Deneubourg, J.-L. (2005) Animal and Robot Mixed Societies - Building Cooperation Between Microrobots and Cockroaches. IEEE Robotics & Automation Magazine. Vol.12, No. 2, June, pp 58-65.
Caprari, G., Estier, T. and Siegwart, R. (2002) Fascination of Down Scaling - Alice the Sugar Cube Robot. Journal of Micro-Mechatronics, VSP, Utrecht, Vol. 1, No. 3, 177-189.
Peer-reviewed Proceedings
PhD Thesis
Caprari, G. (2003) Autonomous Micro-Robots: Applications and Limitations. Thèse n° 2753, Faculté Sciences et Techniques de l'Ingénieur, École Polytechnique Fédérale de Lausanne, 2003. Acceptée sur proposition du jury: Prof. R. Siegwart (directeur de thèse), Prof. D. Floreano (rapporteur), Dr. F. Mondada (rapporteur), Prof. J-D. Nicoud (rapporteur), Prof. S. Shooter (rapporteur).. [show abstract] [pdf]