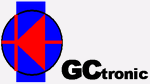 e-puck
---
EOL. The e-puck robot is no more produced. The successor of this awesome robot is the e-puck2.
EPFL educational and research mini mobile robot
e-puck is the latest mini mobile robot developed at the Swiss Federal Institute of Technology in Lausanne (EPFL) for teaching purposes. It is now commercially available from GCtronic.
e-puck is powered by a dsPIC processor and features a very large number of sensors in its basic configuration. The e-puck hardware and software is fully open source (www.e-puck.org) providing low-level access to every electronic device and offering unlimited extension possibilities.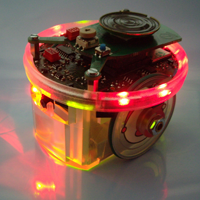 Microcontroller - dsPIC at 60MHz (15MIPS), DSP core for signal processing
Sensors - 8 proximity and ambient light, 3D accelerometer, 3 omni-directional microphones, VGA color camera, IR receiver for remote control
Outputs - 8 red leds, green body light, 1 strong red LED in front, speaker (WAV files)
Communication - RS232 and Bluetooth connection and programming
C programming - free C compiler, GNU GCC, Webots simulator
Battery - 5 WH LiIon battery for ~3 hours autonomy
Low price - 850 CHF (~570 €, ~850 $). Quantity discount available.
---
Links